Glasgow, UK (SPX)
June 01, 2011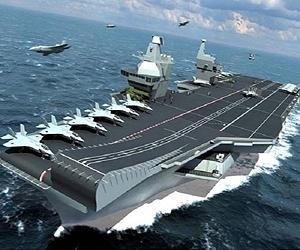 Construction of HMS Prince of Wales, the second of the two new Queen Elizabeth (QE) Class aircraft carriers for the Royal Navy, started at BAE Systems' Govan shipyard on the Clyde.
Employees and guests gathered at the shipyard as Secretary of State for Defence, Dr Liam Fox, was invited to press the button on the company's plasma machine to cut the first steel for the vessel, marking a pivotal stage in the programme to deliver the nation's flagships.
Dr Fox said: "We are committed to delivering this next generation of powerful British aircraft carriers that will mark a step change in our carrier strike capability and form the cornerstone of the Royal Navy's Future Force 2020. This major construction project is creating and sustaining thousands of jobs in shipyards around the country."