University of California, Riverside
June 16, 2011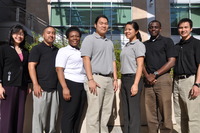 A team of students from the Bourns College of Engineering at the University of California, Riverside have been selected for a $15,000 grant from the EPA to develop a system that could cut electricity bills up to 16 percent by using heat from the sun and attic to operate a new kind of clothes dryer.

The students are working to implement the concept at Victory Gardens Moreno Valley, a 30-home zero net energy, urban agriculture focused community planned for redevelopment on 10 acres by Steven Ribeiro, principal of the Independence, Ore.-based Aldeia, LLC.

The students – Jesse S. Lozano, Kenny Chau, Nhat Nguyen, Etinosa J. Agbonwaneten, Ariana E. Villanueva and Stephen R. Opot – won the phase one grant in the built environment category of the EPA People, Prosperity and the Planet (P3) Student Design Competition for Sustainability.

In April, the students will travel to Washington, D.C. to find out if they won the $90,000 phase two grant that would provide funding to commercialize the idea.

Chau, Nguyen and Villanueva received bachelor's degrees this week and Lozano earned a Ph.D. Agbonwaneten and Opot are still working on their bachelor's degrees and will continue working on the project with members of the UC Riverside Engineers Without Borders chapter.