Orlando FL (SPX)
July 01, 2011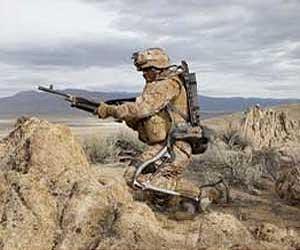 Biomechanical testing of the Lockheed Martin ruggedized HULC exoskeleton is now underway at the U.S. Army Natick Soldier Research, Development and Engineering Center in Natick, Mass. The testing is expected to help shape future requirements for the HULC based on feedback from soldiers.
For seven weeks, U.S. Army warfighters will be evaluated to assess the effects of load carriage with and without use of the HULC exoskeleton. Biomechanical testing will measure changes in energy expended by users, assessing how quickly individuals acclimate to the system and whether there is a reduction in metabolic cost.
Testing will also determine if there is an improvement in metabolic efficiency as measured by oxygen consumption per unit total mass, when wearing the ruggedized HULC as compared to not wearing the device under identical load, speed, grade and duration conditions.
To read more click here...