Design News
July 10, 2011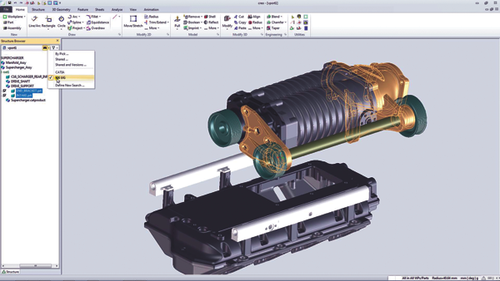 For more than a decade, it's been one of CAD users' more vehement complaints: 3D models created in one CAD system can't readily be used by another. While the CAD interoperability problem has by no means been sidelined, the industry has gained significant ground in addressing the issue via new technologies and through modifications to the design workflow that facilitate cross-platform collaboration.
New visualization and collaboration tools that foster the exchange of lightweight models (meaning 3D geometry without all the design intelligence) have been instrumental in helping companies better exchange multi-CAD data without the hangover of traditional platforms. In addition, new technologies advancing the concept of direct modeling, along with reorienting design workflows so that only critical parts of a design, not full assemblies, are translated between parametric-based offerings, are other tactics easing the interoperability burden.
The solutions couldn't come at a better time. In today's global economy and with the rise of outsourcing, engineers are just as likely sharing design information with peers within their own companies as they are with suppliers, partners, and customers located across the globe. Needless to say, with few exceptions -- large automotive OEMs, perhaps -- it's the rare instance when all of the parties within this extended and dispersed product development ecosystem can mandate the use of the same CAD tool, hence enjoy a fairly seamless exchange of CAD data.
To read more click here...