Technische Universität München, TUM
June 29, 2011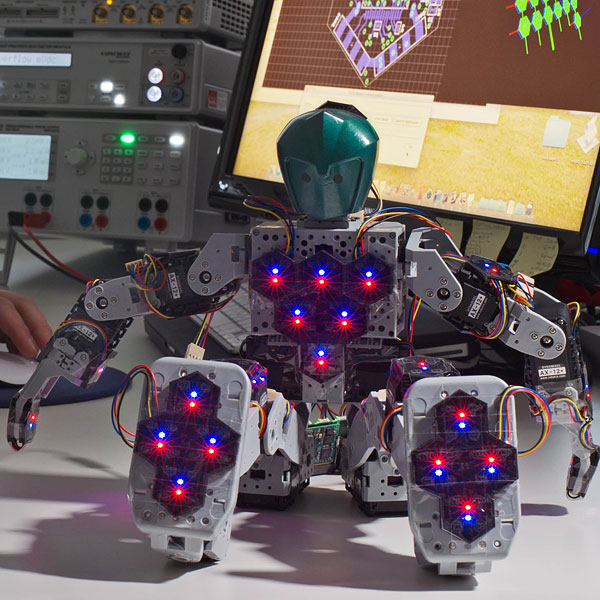 Robots will soon be able to feel heat or gentle touching on their surfaces. Researchers of the Excellence Cluster CoTeSys at the Technical University Munich (Technische Universität München, TUM) are now producing small hexagonal plates which when joined together form a sensitive skin for "machines with brains." This will not only help robots to better navigate in their environments, it will also enable robot self-perception for the first time. A single robotic arm has already been partially equipped with sensors and proves that the concept works.
Our skin is a communicative wonder: The nerves convey temperature, pressure, shear forces and vibrations – from the finest breath of air to touch to pain. At the same time, the skin is the organ by which we set ourselves apart from our environment and distinguish between environment and body. Scientists at TUM are now developing an artificial skin for robots with a similar purpose: It will provide important tactile information to the robot and thus supplement its perception formed by camera eyes, infrared scanners and gripping hands. As with human skin, the way the artificial skin is touched could, for example, lead to a spontaneous retreat (when the robot hits an object) or cause the machine to use its eyes for the first time to search for the source of contact.
Such behavior is especially important for robotic helpers of people traveling in constantly changing environments. According to robot vision, this is just a regular apartment in which things often change position and people and pets move around. "In contrast to the tactile information provided by the skin, the sense of sight is limited because objects can be hidden," explains Philip Mittendorfer, a scientist who develops the artificial skin at the Institute of Cognitive Systems at TUM.
To read more click here...